Awards

1) King Abdulla Institute for Nanotechnology (KAIN) won a Silver medal in the International Invention and Innovation - Malaysian Tech. Expo 2012 held in Kuala lumpur during 16 – 18 Feb 2012. The Silver medal was achieved by the research team consisting of Dr. Fouzi Mouffouk, Prof. Khalid Abu-salah and Prof. Salman Alrokayan for their innovation
" A Novel Simple Sensitive Method for Bacterial Detection".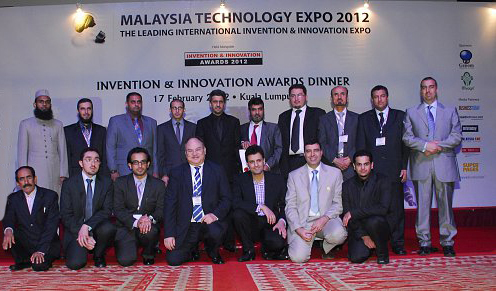 2) Dr. Ibtisam Olayan got the bronze medal at the Korea International Exhibition of Women inventions as well as the Geneva International Exhibition for:
"Cosmetic facial product called Sun Glow composed of light emitting silicon nanoparticles in a moisturizer base".
3) Dr. Mohammad Naziruddin Khan got the Best Poster Award for the poster presentation entitled
"Porous silicon embedded sol gel and polymer nanocomposites for optical applications"
which presented in the Nano Thailand 2012 Conference, in Khon Kaen, Thailand, April 9-11, 2012.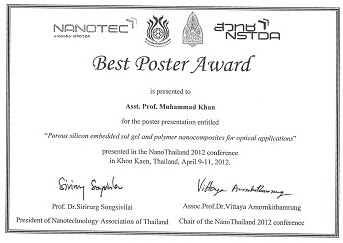 4) Ms. Fawzia Saleh Maiman got the third place (fifty-fifty) for the fourth branch (discoveries, innovations and technology licensing) for award of King Saud University for Scientific Excellence for the academic year 2013 / 2014, for her patent about Manufacturing a small portable equipment for Food control and to provide clear and detailed picture about the Food Additives inside.
5) Dr. Ahmed Mohamed El-Toni and Dr. Joselito Puzon Labis have received "Almarai Award of Scientific Innovation" for 2014. The award was given for them for their paper entitled "Simple and facile synthesis of amino functionalized hollow core–mesoporous shell silica spheres using anionic surfactant for Pb(II), Cd(II), and Zn(II) adsorption and recovery", which has been done in collaboration with Dr. Mohamed A. Habila, Dr. Mohamed Abbas Ibrahim and Dr. Zeid A. ALOthman from King Saud University. The research paper was published in Chemical Engineering Journal's, September 2014 issue. It is worth mentioning that the award prize was half-shared with King Fahd University of Petroleum and Minerals (KFUPM), for their research work, titled "Development of coating with enhanced properties by using car tires' rubber".